I've been wearing my aprons in the kitchen a lot more recently.
Ah, because you've had a chance to start cooking more now that the twins are a bit bigger, you say?
Um, no.
Because I have a faucet in the kitchen that I HATE.
Why do I hate my faucet, you ask?
Because it's not well-suited for the sink!
On a daily basis, I walk away from my sink soaked in water after rinsing up a few dishes, or sometimes even after just washing my hands.
See, I'm only five feet four inches tall, and I really think the counter tops in our new kitchen are higher than the counter tops in our old kitchen. When I stand and lean up against the counter or the sink, it hits me just above the waist.
And somehow, when the water from the faucet that I hate in the kitchen hits the kitchen sink, it splashes up and hits ME right above the waist. Soaked, I say. SOAKED. So I've been wearing aprons a lot if I'm going to be by the sink. They do a pretty good job of keeping me mostly dry.
But I got to thinking, it's probably a good idea to replace the faucet.
Since I'm not ready to replace the sink yet, I know I want to stick with something that coordinates decently with what's already there. My husband suggested something like this: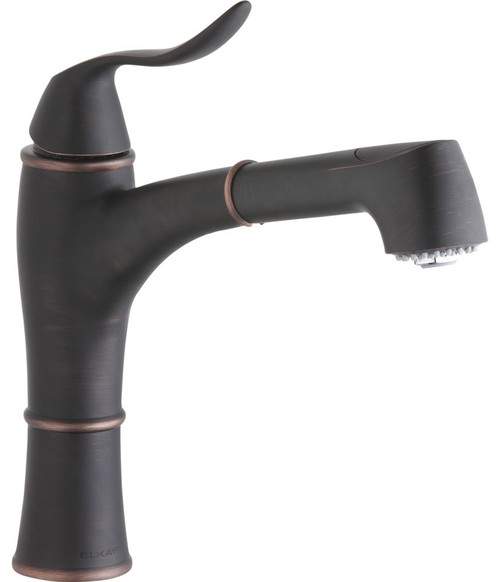 He likes the oil-rubbed bronze look…and so do I, actually. In fact, this would look lovely with our granite counter tops.
However…
…the sink is still stainless steel. And so are our appliances. So I think I'm gonna stick with a stainless steel faucet. Something like…this: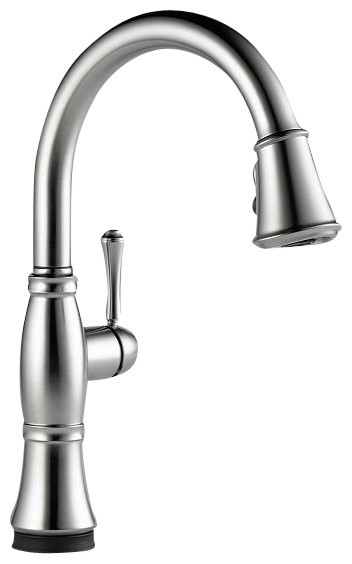 I like the simplicity of it, but also like that it has small embellishments. And I love that it pulls down. That's always a huge help in a faucet, as far as I'm concerned.
Of course, you know me. I'm poking around looking for KITCHEN faucets, and I came across some amazing bathroom faucets, too! I mean, have you seen what are called waterfall bathroom faucets?!
Isn't that pretty?! Also strikes me as though it would be easier to clean, too. I would REALLY like something similar to that for our garden tub, but I thought it might need to be a little bit larger. Maybe a widespread faucet? Something like this?
As I started browsing around a bit more, I discovered something else: vessel sinks! Have you seen these?!
Is that not beautiful?! Now, I've seen the "bowl sinks", as I call them. But I haven't seen one like this in a rectangular shape! I kinda love it!
I guess I need to get back to the kitchen faucet issue, but now I've found two new home fixture items that I didn't know about before…and of course, my wheels are spinning. What to do first?!
Have you ever changed out any of your faucets? Do you have a favorite style? What about a unique sink? Would it work in your home?
Due to the amount of comments from all of my wonderful readers, it is not always possible for me to respond to each one. However, I absolutely do read them all, and if you'd like to address something specific, or have a question for me, please don't hesitate to email me at Kristen@theroadtodomestication.com. I will respond to your email as soon as possible! Thank you for visiting the blog!