As you can imagine, things around our house have gotten a tad bit busy since we found out about the twins! All other house projects have been put on hold in favor of any house project that deals with the "project room", which will be the twins' room when they arrive. I think it'll be perfect: it has light wood floors, great natural light, and TWO closets. Ah! (If you want to see an idea of what it looks like right now, CLICK HERE)
Anyway, it's mostly been used for storage, so we are working on relocating all the holiday decorations and other items that have been stacked up in the closets. It's become clear that we probably need some creative storage solutions. Because…do you ever notice that the longer we inhabit a space, the more stuff we seem to accumulate? Even if you're pretty good about consistently purging your space, there always seems to be that pile of things you just can't part with. Whether it's a stack of books you plan to read (one day!), out of season clothing, or memorabilia, I've decided there are plenty of ways to stylishly store your important knickknacks, and give your space a clean and sleek appearance.
Tip #1: Contain the Clutter
Open shelving looks really polished when your items are minimally displayed, but for the many packrats out there, this isn't always achievable. If you need to utilize shelving to store your stuff, contain the clutter with chic woven baskets or printed boxes. These baskets and boxes will allow you to store the same amount of stuff, but will give your shelving a uniform appearance.
Tip #2: Look For Seating With Built-In Storage
Storing extra pillows and throws can take up a lot of precious space in your home. Look for ottomans or stools with a lift-away lid and storage features to incorporate in your living room. Your textiles will be ready and accessible for when you need them, but won't take up any extra space.
Tip #3: Bring Your Coats Out of the Closet
Coats, especially thicker winter ones, can take up a lot of precious real estate in your closet. Move your coats to your entry way or back hallway to save room in your coat closet for extra storage. Display your coats on a stylish coat rack or add a touch of whimsy with decorative hooks.
Tip #4: Make Your Furniture Work Overtime
Whether you're shopping for a nightstand or an entry way table, take a second to look past the piece's aesthetic and at its functionality. Look for tables with extra drawers, or nightstands with roomy cabinets. There are many pieces out there that are stylish and still perfect for adding extra storage to your space.
Tip #5: Swap Out the Bland For the Beautiful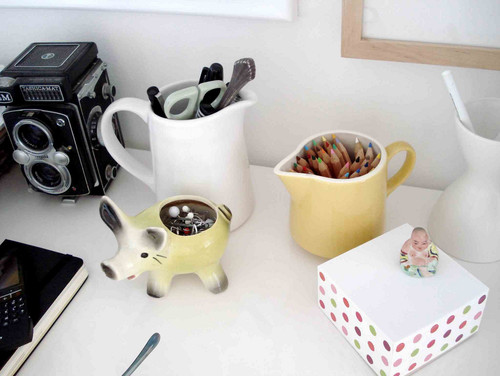 Just because something needs to be functional, doesn't mean it can't look stylish at the same time. Ornate bowls or trays can hold your keys on an entry way table, while a decorative cup or vase can take the place of a bland pencil holder. Use every opportunity you can to swap out something bland for something beautiful and your home will be looking as chic as possible in no time. I know I've got my work cut out for me on that one!
For more storage inspiration check out LuxeDecor's latest design idea for stylish storage solutions.
Due to the amount of comments from all of my wonderful readers, it is not always possible for me to respond to each one. However, I absolutely do read them all, and if you'd like to address something specific, or have a question for me, please don't hesitate to email me at Kristen@theroadtodomestication.com. I will respond to your email as soon as possible! Thank you for visiting the blog!