Some of you may shirk from the title of this post a bit, for a variety of reasons. Perhaps you're quite thankful for the modern world we live in, and would rather not do ANYTHING like your grandparents did. Perhaps you didn't have a good relationship with your grandparents, or you never knew them, or you know them now and would much rather do things your own way.
I was thinking about this yesterday as I was unloading the dishwasher. You randomly think of your grandparents while you unload the dishwasher, you might ask? Why yes, I would respond; doesn't everyone? Most likely not…but I do. Mainly because most of my dishes used to belong to my grandmother! And last night, as I placed a barely-gray with blue-painted flowers soup bowl back in the cabinet, I remembered where she kept that dish in HER kitchen. And I stopped for a moment to think about whether or not she would be comfortable in MY kitchen. Then I wondered whether or not she would be comfortable in my home…you get the idea! (In fact, I thought about it so much that I even shared a link on my Facebook page yesterday that might take you back to your own grandparent's home! CLICK HERE TO SEE IT!)
I learned so many lessons from my grandparents, so it's only fitting that, when Elizabeth from Clydesdale Bank contacted me to see if I was interested in sharing this post, I already knew my answer! I think we all could learn from this post, to be quite honest. So, without further ado…
Could it be that we all wish to have our homes run just like the way our grandparents' did? Home was once such a delight to get back to at the end of a long day at work, and if you were away from home on vacation, chances were that you were visiting your grandparents' home, too!
If you are looking to emulate the atmosphere (and even the design) of your grandparents' home, there are a number of tips that can be followed to bring back this sense of serenity and thus, roll back the years.
These include but are not limited to:
Keeping it simple. Our grandparents always prided themselves in having some of the simplest interior designs. You can achieve this by ensuring that there is a classification of where every aspect is located. This can include having a specific place for all the toys, keeping the books and other materials for reading at one side and ensuring that this classification of items is adhered to at all times whether in the living room or in other parts of the home.
Investing in basic appealing decorations. Family photos have long been known to bring lots of joy especially for family members that are away from each other. This can be achieved by hanging the portraits along the wall in order to bring life to the interior ambience of the home. Further to this, the portraits can be arranged in a way that enhances this design.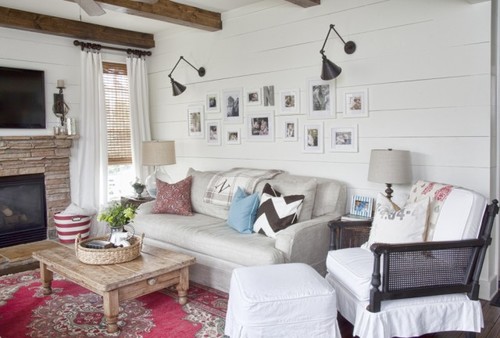 Including floral designs along the room areas. Floral designs especially on walls are common in old homes. They have been found to greatly bring back the feeling of being at home with the ones you love. Further to this, the patterns come in various shapes and designs and this therefore adds to the appeal for the general appearance.
Be economical. Our grandparents spent only on what was necessary. This is an effective way of ensuring that the home is well maintained and that you do not run out of any necessaries. At present, if you are buying a new home for yourself, it is also beneficial for you to apply at your local bank for a fixed rate mortgage so that you can ensure interest rates will remain despite the possible fluctuation in interest that might happen in the future. This way, you can avoid unnecessary cost. This has the added advantage of putting a focus and concentration on what is needed for the effective maintenance of the home.
Have positive energy around the home at all times. Our grandparents have been credited for being amongst some of the happiest people. This was achieved by inviting friends and family members who added to the general feeling of happiness in the room.
I love the ideas for photos and florals especially – two of my favorite things! Thanks, Elizabeth!
If YOU could choose one tradition from your grandparents' home or lives to carry on with your family now…what would it be?
Due to the amount of comments from all of my wonderful readers, it is not always possible for me to respond to each one. However, I absolutely do read them all, and if you'd like to address something specific, or have a question for me, please don't hesitate to email me at Kristen@theroadtodomestication.com. I will respond to your email as soon as possible! Thank you for visiting the blog!