Mark Twain once wrote a book about Tom Sawyer. In the adventures, Tom Sawyer is sent out to restore Aunt Polly's fence. The story takes place during the 1840's inside of a fictional town called St. Petersburg. The whitewashing of the fence is a chore Tom just doesn't want to do and tries to pawn it off on unsuspecting passersby.
Why Homeowners Are Using Composite Fence Styles for Their Homes! #homeowners #compositefencing
Click To Tweet
Let's be glad we live in an age that has materials we don't have to whitewash or paint, unless we really want to. If you want to find other ways to improve your yard, installing carefree fences, such as composite fences, is one way to do that. It will improve the overall appearance of the yard and can be done to preserve your property. If the fence is installed properly, it will serve as more than just a stylish upgrade to your home.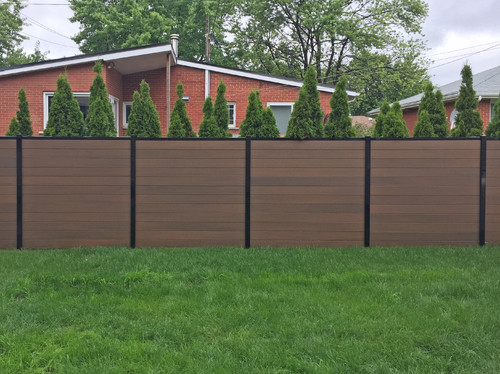 Composite Fencing is Stylish, Trendy and Provides Protection for Homeowners
If you are looking for a way to enclose your yard while making it look stylish and attractive to passersby, one choice that people are turning to is composite fencing. The composite fencing is created from the compound of wood and plastic. It is versatile for the homeowner and is available in a variety of sizes, styles, and colors.
Composite Fencing is Perfect For Homeowners Who Want Little Maintenance
If you are looking for a home that looks modern and will allow the homeowner to have privacy without all the maintenance of the privacy wood fence, you will want to consider the composite fence. It is a low maintenance fence type. It is not only low maintenance, it is also durable and long lasting. While metal is a common go-to for homeowners, the composite fence is popular because of its aesthetic.
Wood Is Beautiful and Functional But Also Demanding
Wood is a popular choice but it is also the option that requires the most work. It is a good option for homeowners who want a nice appearance, but it requires constant care. It is beautiful, but if the wood is not cared for, the wood will mold and discolor over time.
It is vital to wood that it is sealed. The sealer is going to be the thing that helps to preserve it. It can be left untreated but if you want it to hold its beauty, you will want to seal it.
Composite Holds Longer Because of The Compound of Materials
The composite wood is different from other materials because it contains plastic. The makeup of the material is slightly similar to vinyl but the outer layer is protected by the exterior layer that helps to prevent the breakdown of material by pests and insects. The outer layer also helps to make sure that there is minimal fading from the excessive levels of sun and mildew.
The one thing that most homeowners love about composite fencing is that it will only require soap and water for cleansing. It can be cleaned through the use of pressure washing to clean large areas at once. When the harsh weather begins to affect most homeowners' fences, there will be little damage done to the composite fencing.
By fencing in the yard of your home, you will help to keep your privacy. The various heights of privacy composite fences is what will help to ensure your business is kept your business. In a world where all neighbors live on top of one another, and everyone seems to know what is happening in everyone else's backyard, you will have a safeguard in place to ensure that your business is not out in the open for others to enjoy.
Also, consider that when a composite fence is installed, it's a quicker alternative because it does come in different length of panels. What that means for you the homeowner is that it can be installed easily, providing you with privacy sooner. It can be a cheaper alternative to installing a fence because it is lightweight. You will need less people to install larger sections than most other types of fences.
We've only had metal and vinyl fences, but I must say, the more I look at composite fencing the better it looks to me! What do YOU think?
Due to the amount of comments from all of my wonderful readers, it is not always possible for me to respond to each one. However, I absolutely do read them all, and if you'd like to address something specific, or have a question for me, please don't hesitate to email me at Kristen@theroadtodomestication.com. I will respond to your email as soon as possible! Thank you for visiting the blog!